The Backstage View In Excel 2010
Backstage View is an exclusive feature of Excel 2010 and it acts as a central place for managing the sheets. It helps in creating new sheet along with saving, opening, printing and sharing sheets.
In order to get to the Backstage view, give a click on the File tab which is located on the upper left corner of the Ribbon. When you don't have any opened Excel sheet, then the Backstage View will appear like this image.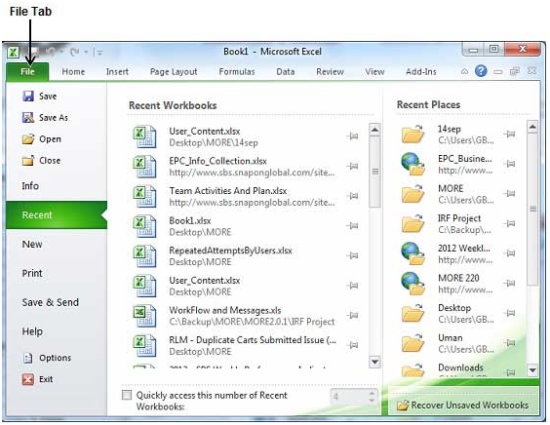 If you have an opened sheet already, then it will display a window showing various details about the opened sheet. Backstage view offers clear segregation of information in three different columns like in this image.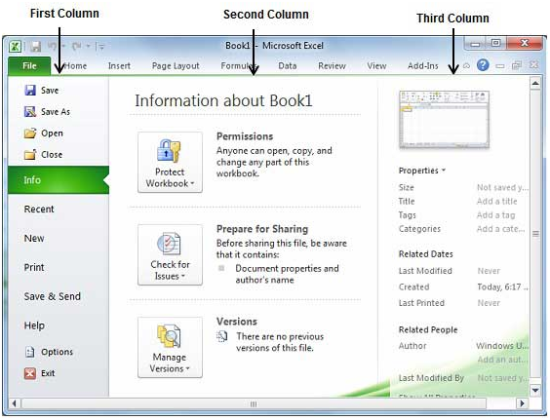 The first column in backstage view offers various options like Save, Save As, Close, Open, Info, Recent, New, Print, save & End, Help, Options and Exit.
Sheet Information
Clicking on the info option in the first column will display the following information in the second column.
• Compatibility Mode
• Permissions
• Prepare for Sharing
• Versions
Sheet Properties
Clicking on Info in first column shows various sheet properties in the third column of the backstage view, which includes sheet size, title, tags, categories etc. Users can edit the sheet properties by simply giving a click on the property value of it is editable then a text box will appear right there.
Exit Backstage View
In order to exit Backstage view, simply click on File tab or press Esc key on the keyboard.
You may also like...
Sorry - Comments are closed
Australia
Unknown
Humidity: 65
Wind: 9 km/h