iPhone 8: Latest News, Release, Tech Specs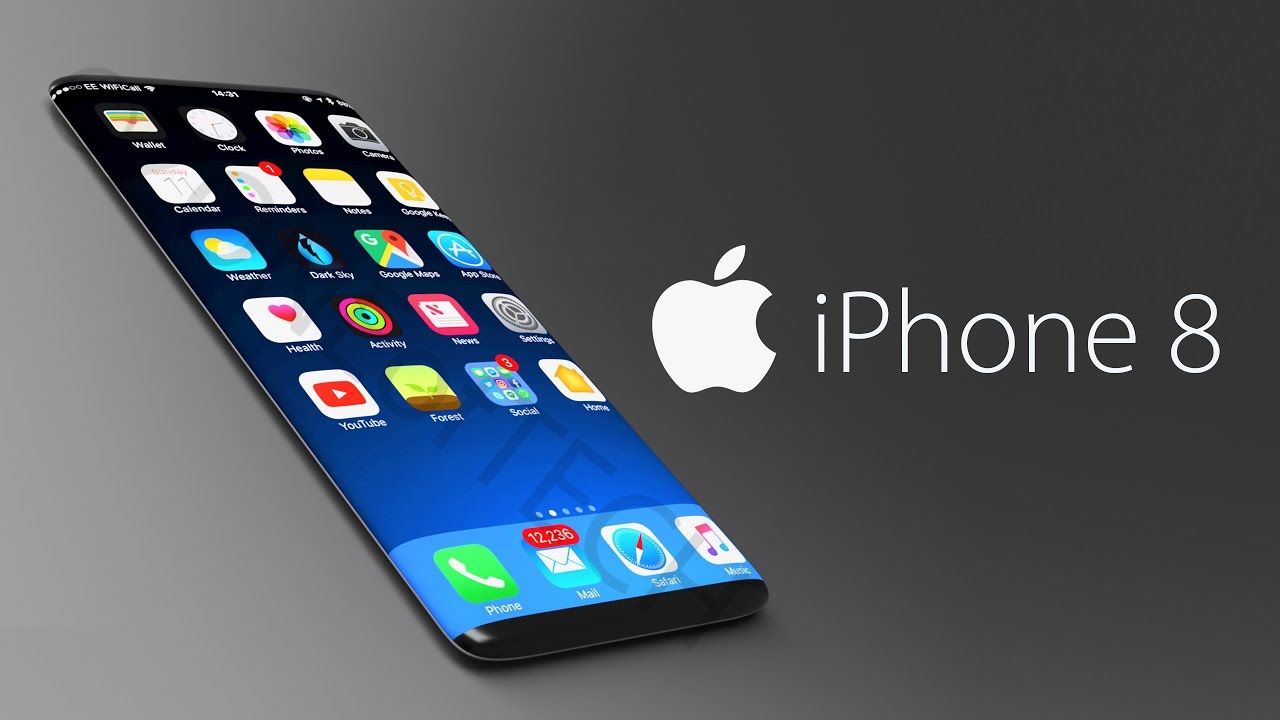 The iPhone 8 will release in the 10th anniversary of Apple smart phone. In this article we will cover the latest news and release date of iPhone 8, the specs and design and price of iPhone 8.
Apple released the first iPhone in the year 2007. Now after 10 years, apple is planning another major revamp of the iPhone  – and it is called the iPhone 8.
The release of iPhone 7 wasn't as exciting because it failed to deliver on battery life. But from recent rumors and leaks , it appears Apple has pulled out all stocks for the iPhone 8.
Check out this iPhone 8 concept video to whet your apetite.
When does iPhone 8 releases?
There hasn't been any official announcement about the release date of the iPhone 8, but we can take a good guess at when the iPhone 8 will launch by recapping its previous launches:
Based on the previous dates, we can expect the iPhone 8 revealed date to be either 12th September, Tuesday or 13th September, Wednesday.
And iPhone 8 release date may be either 22nd September, Friday or 23rd September, Saturday.
However, there have been several warnings of possible delays. A note written by Deutsche Bank in May stated that iPhone 8 might not arrive until 2018. Analyst Ming-Chi Kuo also stated that production of iPhone 8 will not begin until October or November, which means the release in 2018.
However, China's economic daily news reported that iPhone 8 component production was on track with major suppliers such as ZDT, TSMC, KIT and SIMPLO. According to Digitimes report, the low yield of OLED could lead to just 3 to 4 Million units being ready for the September debut.
iPhone 8 Design :
We are expecting to see a huge transformation the iPhone 8's screen-to-body ratio. The ratio describes how much the front of the phone is occupied by display. The recent trend appears having an all-screen front. LG G6 and Samsung Galaxy S8 has already released such design.
A recent report from Bloomberg by Mark Gurman states that Apple is working on a major redesign for the iPhone 8 that focuses on removing the Home button from the display.
The New York Times reported that iPhone 8 will have a virtual button built into the screen with a fullscreen face.
Analyst Andy Hargreaves stated that Apple was finding it difficult to introduce an optical fingerprint sensor into the display. If it could solve the problem by the next month, it would likely have an early launch.
Both Ming-Chi Kuo and Mark Gurman hints to see facial recognition system in place of touch Id fingerprint scanner. KGI securities analyst Ming-Chi Kuo states that the Apple iPhone 8 will have a glass body with aluminum or stainless steel frame.
It will also written the water resistant design like iPhone 7 with more water-tight IP68 rating, to compete with Samsung Galaxy S8.
iPhone 8 Specification:
Apple is expected to introduce the OLED display iPhone this year.
The OLED screen can produce their own light, which means the screen doesn't need a backlight, thus saving battery. Individual pixels can also be turned off, thus whiteing the color gamut and improving the dynamic range.
Though Samsung has adopted the OLED display long ago, Apple has stayed far from this technology possibly because of Samsung's lion share of OLED display manufacturing.
Apple is reportedly planning 3 display sizes for the new iPhone – 4.7 inches,  5.5 inches and 5.8 inches.
According to Nikkei Asian Review, all the three models will get the OLED screen display.
As always, Apple is going to introduce a major system – new system-on-a-chip (SoC) – the A11 processor on the new iPhone 8. The iPhone 7 runs on A10 Fusion Chip but the iPhone 8 will use the new SoC. The A11 processor will be manufacture on a 10nm FinFet. The 10nm is called the process used to create the chip. The lower this number, the more densely are the transistors packed in. transistors help in computing, so the more transistors, the more are the processes completed simultaneously. This means a boost in performance and power efficiency.
The A10 Fusion Chip of iPhone 7 used a 16nm process while the iPhone 8 will use a 10nm process, which means better battery life.
Analysts at KGI Securities believe that Apple will carry forward the dual lens camera from iPhone 7 Plus, with the only change being optical image stabilization in both lenses.
Apple analysts also believe that Apple will upgrade its front camera with 3D sensing capabilities. This feature will allow to determine the location and depth of an object in a 3D space.
According to a Bloomberg report published in February, Apple is exploring the photography features and wanting to change the depth of specific object in a photo later, such as allow a person's head to be tilted at 180 degrees. This feature would use the augmented reality to place virtual objects and effects on a person, similar to Snapchat. This technology is called the depth sensing and algorithms used are created by Prime Sense.
There have been plenty of speculations that Apple will come up with wireless charging for the iPhone 8. Apple joined WPC in February, while WPC is in charge of developing Qi wireless charging used by Samsung Galaxy S7. Rumors that iPhone 8 will have glass body makes it very likely to have wireless charging. However, some sources claim that the glass body may be only on select iPhone 8 model.
Kuo also believes that the new iPhone will support fast charging with Type C power delivery technology, while the key challenge is in ensuring product safety during a fast charge.
iPhone 8 Software:
Apple displayed the latest version of mobile operating system – the iOS 11 – at the annual WWDC conference in June.
With the iOS 11, there are plenty of upcoming upgrades – Message update, focus on stickers and apps syncing messages to cloud so that your old messages get carried forward to the new phone.
SIRI is also getting a new voice and she will be capable of translating your voice and speaking out the response.
There will also be many other updates including Photos and Camera, Apple music and app store, upgrades to Map and a freshly redesign control center.
iPhone 8 Price: 
The iPhone 8 will no doubt be expensive, because that's how Apple works. But how much will be the price?
Well, here's a breakdown of the previous iPhone pricing:
From the above we can see that the iPhone 7 broke the trend of the low – 500 GB Apple phones with a pricing at a Pound lower than 600 GBP. So it is likely that the iPhone 8 will be similarly expensive unless there happens to be a dramatic turnaround in the Britain's economy.
Should you wait for the release of the iPhone 8:
Well, to wait or not is your personal choice, but here is our advice.
If you are using the iPhone 6s or older version, then you should definitely wait for the iPhone 8. The iPhone 8 will come up with major revamp in design and if you are coming close to the end of the 2 year contract, it's time to check out what's in store until September.
If you are using the iPhone 7, you probably will not need to upgrade to iPhone 8 unless you are a die-hard Apple fan who wants to be at the latest edge of technology.
Consider alternatives, such as android phones. A new release of an iPhone does not mean the smart phone industry shutting down. Great alternatives are Samsung Galaxy S8, HTC U11 and LG G6.
Summary of iPhone 8:
Here is a brief summary of what to expect from the new iPhone 8.
iPhone 8 release date: From our research, we have concluded that iPhone 8 will be revealed on 12th or 13th September, while it is likely to be released on 22nd or 23rd September.
iPhone 8 specification: While there are plenty of rumors, we have concluded the major addition to be OLED display, wireless charging, 10nm A11 Chip, front all-screen design and 3D sensing front camera.
iPhone 8 Price: The iPhone 8 entry level price will likely be close to 599 GBP while the price could be as high as 1000 GBP for top-end models.
Copyright Clarified.Com. All Rights Reserved.
You may also like...
Sorry - Comments are closed