The Best Budget and Premium Chromebooks of 2017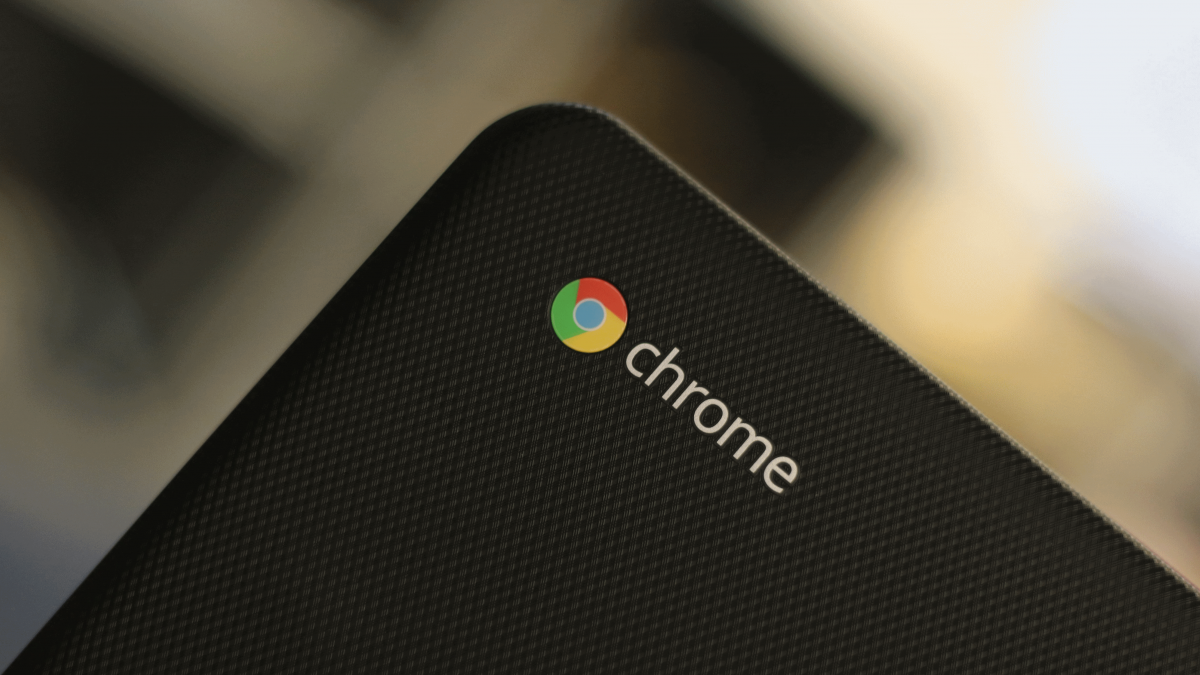 Chromebooks are no more just a browser item but have become legitimate laptops. The full featured, lightweight machines have become more secure and affordable.
There is a wide range of Chromebooks you can choose from at this point. From the ultra high-end to the lower segment ones, you will find no shortage of choices. While that's a good thing, it's tough to pick the right one for you. So we have narrowed down to the best budget and best premium Chromebooks on price point and latest and best functionality.
Is Chromebook Right For Me?
Even before we give you a look into the best Chromebooks of 2017, you need to come across the big question: Is Chromebook right for you?
In short, the answer is 'it depends'.
You have to take a close look to answer that question. Ask this yourself: do you live in your browser? If Chrome is your most used app and 90% of what you do on computer revolves around using the browser Chrome – then Chromebooks are an excellent option for you.
The second one is hardware. Most printers and scanners do work with Chromebooks. But you won't be able to do things like syncing your iPhone data to local hard drive. This means no local access, which could be annoying for some users.
The third thing is you have to keep your expectation low. While minor image tweaks are definitely possible on a Chromebook, it is not going to support any hardcore video or image editing. The hardware is too limited for this and there isn't much in the software tool.
So if you are looking anything more than $500 in a Chromebook, you'd be better off with a lower end Windows machine – of course, you have to keep your expectations low when it comes to raw power, but they would at least be more versatile.
Having said that, Chromebooks are another segment in the electronics market that we didn't knew we wanted until Google said us we could have it. These laptops are affordable range of machines that can slide out of your briefcase, boot up instantly and have you browsing and surfing in seconds.
By now, you must have decided if Chromebook is right for you. If yes, you will absolutely love it.
The Best Budget Chromebooks (sub-$300)
There are a wide range of Chromebooks – starting from as low as $99 to $500 and more. Having said that, you get what you pay for. So unless you're looking to go on an extreme budget, I recommend staying away from that segment of the market. Spending a little more goes a long way into buying a better Chromebook. Here are the best Chromebooks in the sub-$300 segment.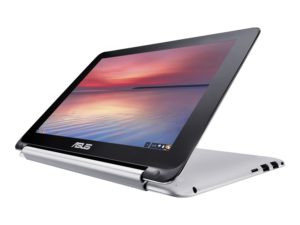 The Asus Flip C100 does a wonderful job in the budget Chromebook range. ASUS has kept the cost down by using a highly cost effective Rockchip processor that can get your job done beautifully. It comes with 4GB RAM (also a slightly affordable 2GB RAM is also available) that does everyday task very well. ASUS also knows where not to compromise. Building quality is the focus. The Flip C100 has a solid aluminum chassis and a robust overall build.
This is more than just a Chromebook. At 10.1 inch, it has the ability to run Android apps, which make this convert to an excellent tablet as well. Even though it's slightly bulky in tablet mode, but if you don't have a tablet or are looking in to buying a new one, you can easily grab the C100. The only shortage some users may feel is the display size. At a resolution of 1280×800, the 10.1-inch touch panel makes it hard to use for some full time laptop users.
The Asus Flip C100 is available on Amazon.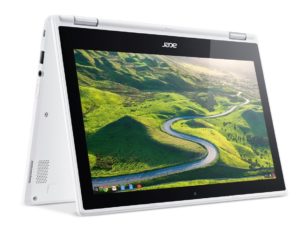 If you are looking for a slightly larger convertible Chromebook, look no further than the Acer R11. This Chromebook has display size of 11.6 inches with full access to the Google Play Store. So you can easily get through your day of pounding keys if that's what you need.
Unlike the C100 aluminum cell, this Acer R11 has a plastic cell (not a premium look). However, this comes with a slightly more powerful hardware – the Intel Celeron N3150 processor that keeps sluggishness at bay and lets you do more work in less time. The R11 has a display resolution of 1366 x 768 which should provide lesser eye strain when compared to C100 because of a slightly lower resolution on the vertical access and also it pairs with a larger display.
The R11 comes in 2 variants – 2GB of RAM with 16GB Storage and 4GB of RAM with 32GB Storage. I'd always recommend the latter, as it seems more appealing to me at this moment at just $190 on Amazon.
You can checkout Acer Chromebook R11 from Amazon.
The Mid-Range and Premium Chromebooks ($300+)
Lower range Chromebooks are great and fit into most people's lives – but if you don't essentially have the need for a laptop yet looking for some more power and larger display, a premium Chromebook can fill the laptop void. Below is a list of Chromebook that fill the segment.
The list contains mid-range and premium Chromebooks listed into the same category because of a sole reason. There are different versions of the same machine. For example, the HP Chromebook 13 has versions ranging from $499 to $819. The starting price point is the mid-range machines but if you step up a little, you can get yourself a premium Chrome OS machine.
Apart from larger screen and premium build quality, the major differences you will find in the premium segment are the processors and the RAM. While the ARM based chip in cheaper Chromebook can get the job done for majority of the people, the more advanced processors found in the premium ones make a bigger punch. The Intel mobile chips used in these Chromebooks are already the ones currently used on many Windows laptops, so you're going to get an impressive performance when you put one of these into the lightweight Chromebooks.
The RAM also plays an important part just like a traditional PC. In short, the more tasks you run at a time, the more RAM you will need. If you are like me keeping 20+ Chrome tabs open at a time, it would be a lot on a 4 GB RAM. I'd recommend moving to a 8GB or more RAM machine. On the other hand, a three to four kind of tab is more than enough for a 4 GB RAM.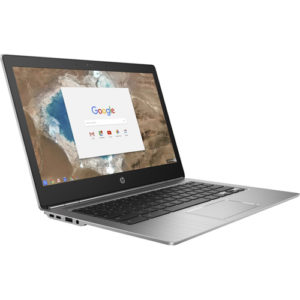 If you're looking for a more customizable and little more in Chromebook, the HP Chromebook 13 can be your answer. The HP Chromebook 13 models have aluminum body with 3200 X 1800 QHD display resolution but the hardware changes dramatically depending on the price – the entry model comes with a Intel Pentium processor while the higher grade unit gets to a Intel Core m5 chip.
The only downside that I can see in this HP Chromebook 13 is the RAM – only a 4GB option. An 8 GB model would be better off, especially when it comes to this premium range. The 4GB RAM has been sort of standard for a while now when it comes to Chromebooks but given the changing needs of the users, the 8GB option taking its place is most likely an option.
For the HP Chromebook 13, you can pick and choose your hardware type depending on your need. There are a lot of customization options – from the Pentium 4405Y to the Core M7 (of course, making it highly premium at $1615) – and the display resolutions – from QHD to FHD.
You can also top it up with HP accessories such as Chromebook Dock that essentially makes the Chromebook a desktop workstation – complete with Ethernet, USB – C, dual monitors and Swoon.
Check here to find more information on HP Chromebook 13.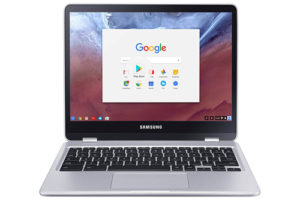 The Samsung Pro and Plus models have nearly identical hardware specs , which includes a 12.3 inch display with 2400 X 1600 px resolution , 4GB RAM with 32 GB of storage and a stylus.
Why the stylus? Well, because these Chromebooks are convertible as laptops and tablets in one with full access to the Google's Android's Playstore. The lightweight of the machine at 2.38 pounds are perfect enough to fit the bill.
The basic difference between the Pro and Plus models will be in their processor. The Plus model comes with a Samsung-designed hexa-core ARM processor while the Pro model comes with an Intel m3 chipset. The price of the Plus model comes at $449 though the pricing of the Pro hasn't been announced yet.
While both the Pro and Plus versions look solid, Samsung should get a couple of things right – the no 8GB option and limiting both devices to 32 GB storage. These are premium Chromebooks designed to provide a premium experience, and doing stuff with limited specs can be hard. However, the processors will help give a better experience than the smaller Books.
The Samsung Chromebook Plus is available on Amazon.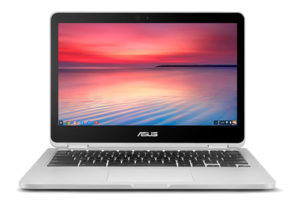 The ASUS Flip C302 is the bigger and better version of the C100. This outstanding machine comes with all the great things of C100 – the aluminum build and convertible design. The even better part is the 12.5-inch larger display. This Chromebook comes with two versions –the Intel Core m3 and Core m7 processors. Added to this, the only Chromebook in this list will feature specs with up to 8GB RAM and 128 GB of storage.
Unlike the other Chromebooks in this list, the ASUS C302 comes with a 1920 X 1280 FHD display resolution – honestly the best out there – the fewer the pixels, the better will be the performance and the battery life.
Some other unique features of the ASUS C302 is the ambient light sensor. Like your phone, the Chromebook adjusts the brightness according to the lighting in the room. It also has a backlit keyboard – Samsung machines are really lacking on this feature!
The Core m3 model with 4GB RAM starts at $499, of course going higher ffor the m7/8GB model.
You can find the ASUS C302 m3 model on Amazon.
Conclusion…
If you've been considering to purchase a premium Chromebook, there's no better time to make the leap than now. The premium features available in these Chromebooks make them an excellent choice for those who want to always stay up-to-date and secure.
For what it seems, the ASUS Flip C302 looks the best machine and the best value for money at a premium segment.
Tags best budget and premium chromebooksbest budget and premium chromebooks 2017
You may also like...
Sorry - Comments are closed